Understanding Metallic Epoxy Flooring
When searching for epoxy flooring, you may have encountered some show-stopping metallic options. But what is it actually? Metallic epoxy flooring is a fusion of a metallic additive mixed with a clear epoxy resin coating. This results in an extremely striking and eye-catching appearance with seemingly three-dimensional swirls throughout. Depending on the color, metallic floors can also look reflective or shimmery due to the glitter-like particles. Aesthetics and colors aside, metallic floors also offer a variety of functional benefits for homeowners, retail shop owners, and commercial property owners alike.
Advantages of Metallic Epoxy Flooring

Unique, One of a Kind Designs
No two metallic epoxy floors are the same, giving your space a one-of-a-kind look. Trust that your visitors, guests, or patrons will be blown away by your building's unique floors.

Non-Slip Surface
While Metallic epoxy may look slick, it is not. Epoxy is actually one of the best non-slip flooring options out there, especially compared to hardwood, laminate, or acrylic.

Variety of Colors
Metallic epoxy flooring comes in an endless array of colors, allowing you to pick just the right one for your space's design and your personal taste.

Lasting and Durable
Metallic Epoxy flooring is very resistant to chemicals, scratches, water damage, and wear and tear and wear. This makes it perfect for highly trafficked areas such as a garage, home gym, warehouse, or retail space.
Epoxy Metallic Flooring Colors
Epoxy Northwest offers a wide selection of vibrant metallic colors to choose from. From dark gun metals and titanium to vibrant ocean blues and rich gold, you can find anything you are looking for in our vast collection. Trust that we have the perfect hue for your new epoxy floors.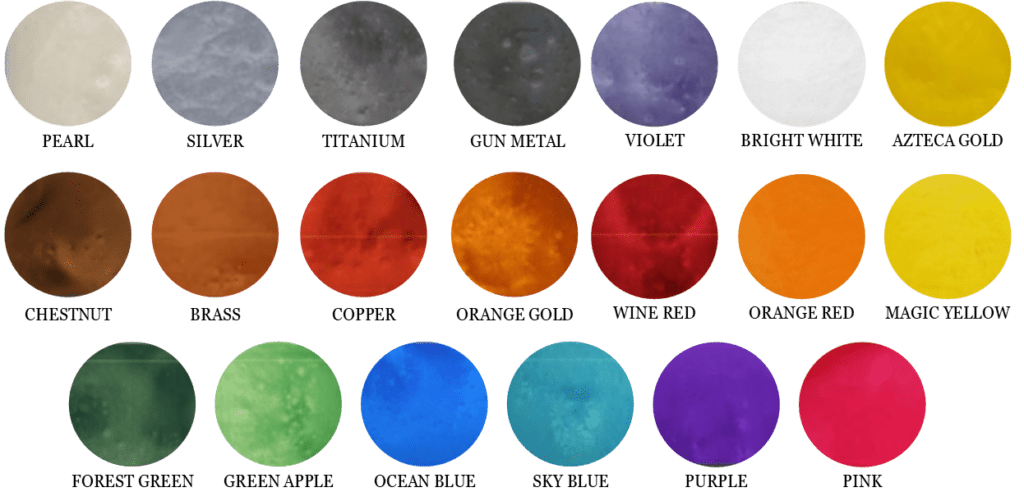 Contact our Seattle Epoxy Flooring Installers
Call 888-924-4350 to talk to one of the flooring contractors at Epoxy Northwest about installing metallic epoxy floors in your home or commercial space! Consider it an elevation in aesthetics, functionality, and durability.
The Process of Installing Epoxy Metallic Flooring
Installing epoxy flooring is no easy feat. You want a flooring installer that takes meticulous care of your home and ensures that the installation is completed flawlessly with no stone left unturned. Here's a step-by-step breakdown of how our expert team here at Epoxy Northwest will install your new flooring:
Epoxy Northwest is One Of The Leading Epoxy Flooring Installers in Seattle
For years and years, the Epoxy Northwest team has provided high-quality residential and commercial polymer flooring solutions across the Greater Seattle area. From expansive commercial warehouses and showrooms to residential garages and basements, our flooring contractors have the skill and know-how to install your floors to lasting perfection, no matter the square footage size or complexity. Our tried and true process, years of experience, and thoroughly meticulous technique ensure this. Just contact us today, and we'll be happy to educate you on your floor options or schedule your installation.

Upgrade Your Floors to Metallic Epoxy Today
Ready to upgrade your home or business with metallic epoxy flooring? The process takes as little as three days and is guaranteed to improve the aesthetics of your space, enhance its resale value, and so much more. Contact the Epoxy Northwest flooring installers in Seattle for a quote today.